current news

05.19.2009

The newest in fine electro from worldwide producers, check out the May 09 Electro Showcase #66 from Vocode co-founder DJ Mad Wax. Deep electro funk grooves inspired by the best in 80s funk, movin Munich and UK dark groovers, a taste of the eastern europe deepness and full round about to Miami, this ones not to miss. If you dig a particular track on the mix, support the artists who break it down in the studio and purchase a cut! Crank it up, bass out and most of all, enjoy!

03.09.2009

...and we're back! Check out the latest in electro cuts and grooves with a bass-heavy mix from Vocode co-founder DJ Mad Wax, with the 65th Electro Showcase edition for March 2009! Featuring a diverse range of electro bass records, this one is for the bass heads, breakers and robo heads everywhere. Moving squarly into the present and future, we're now offering direct purchase links to the various releases featured on the ESS mixes! The mix as always is a free download from your friends at the Vocode Project, but if you dig a particular track on a mix, support the artists who break it down in the studio and purchase a cut! Crank it up, bass out and most of all, enjoy!

02.11.2009

Greetings friends. A new electro showcase is on the way very soon after a much too long hiatus. In the meantime, 2002 year archives of the ESS mixshow have been made available again. Check them out here! Over the next few weeks we will be uploading 2003-2005 as well.

02.02.2009




09.29.2008




07.05.2008




05.14.2008 :: The good folks at 33jones.com have done a feature on DJ Mad Wax's Dynamix II megamix. Check out the tracklistings and write up here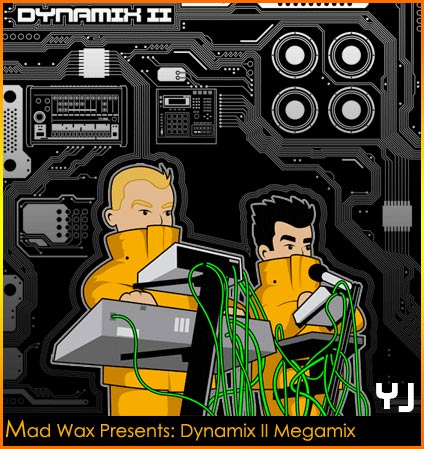 04.30.2008 :: Special guest DJ Kool Jo Dee, representing Bristol UK brings the rough electro business for the 64th edition of the Electro Showcase Showdown mix. Check out the tracklistings and download the mix here

04.30.2008




04.22.2008 :: A message from the management :: greets folks and thanks for dropping by - just a heads up that content's been slow as of late as I've been busy with work, busy with my newborn son, busy with moving and in general just plain busy! For our longtime visitors, and folks new to vocode, never fear, I'll be back up and running in full gear this summer once I things settle down a bit! Peace and most of all... BASS!!

Mad Wax, proprietor of fine electro and bootie shaking vocodation! 03.09.2008 :: Vocode resident DJ Nailer returns to the ESS mixshow with the March 2008 edition of the Electro Showcase. Enjoy!!!

12.23.2007 :: After a hectic tail end of 2007, including the birth of his son (b-boy's welcome your newest edition!) and a crazy 4th quarter pressure of advertising agency life, Vocode Project co-founder DJ Mad Wax returns to form with the Dec. 2007 edition of the Electro Showcase, our 62nd showcase mix podcast. Peace and bass and Merry Christmas! All the best to everyone for 2008! We've also started the process of getting the rest of our archives up online for those who missed them the first time. Showcases are up through August 2001 now, you can go download them on the showcase archive list page here.. We dont have all tracklist pages up as records weren't....too meticulous in the hazy days of the youth :) but right click/save as on the mp3 gifs and you can get the mp3 downloads :)

10.17.2007 :: Fall greetings to all of you. We've got four new mixes in our recommends section. Check out the briliant stylings of Denver house legend Joey M, two mixes from NYC's Alienswede - Live At Activate 2007 and Schizo, and one from DJ Hell, live in Berlin. Through the rest of the winter, we'll be uploading the Electro Showcase Archives to completion as well for those of you who missed these in the original years of release. New record releases soon! Peace and bass.

10.04.2007 :: check out a PREVIEW of the upcoming sounds of Vocode Records. These releases are out on other labels but done by Vocode Project affiliated artists Gruppe 909 and Silesian Miners Collective. First official Vocode Records releases 001 and 002 are being prepared for a winter 2007 release (finally!). Coming up soon, more vocode recommends DJ mixes and we'll be resuming the Electro Showcase. May the bass be with you!.... Download or listen to these previews tracks at the Vocode MyBass Presence.

08.27.2007 :: Vocode Recommends #15 - a brilliant italo disco mix by none other than DJ Hell.... Download here.

07.03.2007 :: 626 Soul represents once again for our recommends section, this time featuring Coy West live from club minc in Dallas, Texas. Full tracklisting & Download here.

06.21.2007 :: The return of our Vocode Recommends sections, courtesy of Texas' DJ Jscro [626 Soul Crew] Full tracklisting & Download here.

06.21.2007 :: Detroit electro-nic soul and electro bass from special guest DJ Agent 2, repping the Rebel Intelligence crew [UK]! Download the June 2007 edition of the Electro Showcase.

05.14.2007 :: Please welcome our newest resident DJ, Volt representing the electro bass sounds of Portugal. DJ Volt's been providing some stellar guest mixes, and we're pleased to have him aboard! Check the tracklisting and download the May 2007 edition of the Electro Showcase.

04.13.2007 :: Our resident down south brings the funky heat for your system. Another class mix for the April 07 edition of the Electro Showcase, click here for tracklisting and download.

03.08.2007 :: Guest DJ Trichome, Sub Artifacts label head gives up the headphon funk for the March edition of the Electro Showcase, click here for tracklisting and download.

02.02.2007 :: DJ Nailer presents a simply fantastic electro bass mix for the February edition of the Electro Showcase, click here for tracklisting and download.

01.06.2007 :: Things have been made hectic at vocode HQ, but we're back off to regular schedule starting with the first showcase of 2007, for January featuring DJ Volt. The November showcase Volt came in with was so nice, we had to put him out twice. This one's a banger, read the review and tracklist here, and turn it up to 11..... we've also got the Dec 2006 showcase coming up shortly, featuring Vocode founders Lex and Wax at it again manning the decks. Better late than never...right???? New Vocode Recommends coming shortly as well, stay tuned 07 is gonna be a banger. As always, if you are a DJ or know of a DJ we should feature here running electro tings, let us know!

11.28.2006 :: Shady records aint the only ones with the Re-Up. Check out the December 2005 electro showcase from last year featuring Vocode founders live pa project, Gruppe 909. We finally got around to uploading it again....

11.21.2006 :: Who's got the funk? Novembers Electro Showcase guest DJ Volt, representing Portugal, got the funk. Check out the November 2006 electro showcase - warmin' things up for that cold ass winter!

10.02.2006 :: Our newest resident, Brazil's DJ Kowalsky lays down a smokin' megamix of classic electro, old school breaks and modern day ripper speaking electro bass for the October 2006 electro showcase - don't sleep and turn it up loud

09.07.2006 :: Two new banging mixes added. First up CyborgTR808's brilliant old school electro megamix - our 12th Vocode Recommended review. Also, courtesy of the UK's DJ Matt Rouse, another deep mix of classic progressive dance trax to get hyped to... check em both out today!

09.05.2006 :: Coming back at you strong to start off the Fall season at Vocode, DJ Double Helix comes back for his second round KO with a blazing electrobass mix for the September 2006 Electro showcase - despite massive technical issues, DH came through and delivered a bangin mix - download it and rock the bass planetz electro freaks!

08.15.2006 :: Just a quick update: Vocode Podcast rss has been revised to fix broken code and it now works with iTunes as well as other RSS readers - so if downloading podcasts is your thing, please bookmark our RSS feed below and get electro showcase and other DJ mixes as soon as they're available!

08.14.2006 :: Rounding out the summer with a scorching electro showcase mix for August '06, Texas' very own Majora y Minora represent with that bass business - don't sleep!

08.08.2006 :: Just a quick update to announce DJ Kowalsky has joined the Vocode Resident DJ crew to keep the electro showcases banging - we're proud to have him at vocode and look for his debut electro showcase showdown mix in winter of this year. Conflicting scheduling conflicts have prevented vocode founders Mad Wax and Lex from getting the 50th showcase completed, but who knows we might still put one out if we can get in the studio together! Conveniently skipping to 51 (and leaving the option to actually put out the 50th;), we should have the next showcase up soon for August, as well as some more Vocode Recommended write ups! May the bass be with you, and thanks for dropping by.

07.19.2006 :: Summer greetings bassheads. Are things as hot for where you kick it as it is at Vocode HQ? We're on a short hiatus with the electro showcase, but have 3 new mixes that we highly recommend. Peep the following goodies to keep your mp3 player crackin: Dr Dre Old School Swap Meet (Mixed in 1987 @ The Roadium Compton California), DJ Volt representing Portugal with a wicked electro bass mix 'DJ Volt Volume 10' and finally DJ Kowalsky's deep electro business 'Ahnaal Lourd Analove Quadrilha Mix'. See you in august!

06.01.2006 :: Check out the kick off to the summer season of releases at Vocode for 2006 with the electro bass stylings of DJ Psalm, repping Göteborg/Sweden for the June 2006 Electro showcase! Next month, prepare for the 50th electro showcase, in our 6th year of presenting the mostly monthly Electro Showcase Showdown!

05.08.2006 :: It's finally spring time at Vocode HQ, and nothing sets us off nicer for warm weather, cadillac convertibles, burberry hats and Adidas sneakers than a fresh mix of electro expertly mixed by our man down in Athens, DJ Dynamons! Check out the smashing electro bass mix for the May 2006 Electro showcase!! Next month, we present another guest DJ mix from across the pond and prepare for the 50th electro showcase in July of this summer! This will be a special one, so get ready!

04.03.2006 :: We're pleased to announce the first mix from our newest resident DJ, Nailer from the Czech Republic. He joins Vocode Residents Mr. Roboto (Denmark), Lex and Wax (USA) and Dynamons (Greece). DJ Nailer comes correct for his first time out on the Vocode Project and has done up a brilliant electro bass mix for the April 2006 Electro showcase! Go check it out! We look forward to many future mixes from our man in Eastern Europe!

03.21.2006 :: London's DJ Steve Marx does a brilliant progressive mix for Spring of 2006, and we review it. Go to the download page to cop this mix and read the write up!

03.07.2006 :: We continue with uploading vocode archives! Added the Mad Wax versus Lex Live @ Afrodiziak Afterparty mix to the DJ Mixes section. Go to the download page to cop this mix

03.06.2006 :: In our continued effort to bring back online all archives, several former showcases from 2000 and 2001 have been uploaded in mp3 format. Go to the Electro showcase main listings page and scroll down to the bottom of the page. Right click/save as on the mp3 image to get these archived showcases!

03.06.2006 :: Vocode co-founder takes a break from corporate white man duties to drop the March 2006 Electro showcase.

02.24.2006 :: Mad Wax's 2000-2001 quartet of mega mixes, featuring Kraftwerk, Dynamix II, Drexciya and Mas 2008 'Decyphered Music' are back online in mp3 format :) enjoy! Note though, The Drexciya mix is not encoded at high bitrate - bandwidth was a bit more scarce back then - I'm working on encoding the masters again at some point in 06

02.21.2006 :: We've sorted some additional hosting that should allow us to get all archived DJ Mixes and Electro Showcases online in mp3 format. Look for archives to start going back up daily throughout the rest of February and March.

02.16.2006 :: Check out the newest review in the DJ Mixes section of Vocode,a scorcher of a breakbeat mix expertly mixed by the Czech Republics DJ Nailer!.... Check out more info and download the set here

02.10.2006 :: Athens vocoder and long time resident Dynamons sets off 2006 with a brilliant mix of electro breaks from out bass!.... Check out more info and download the set here

12.06.2005 :: For the third year running, Vocode founders Lex and Mad Wax represent for the December showcase, wrapping up 2005. This one's a little different however, as it features original music recorded and performed by the two bassheads as their live PA act, Gruppe 909. It also serves as a teaser for the founding of Vocode Records, which is set to launch in 2006.... Check out more info and download the set here

11.02.2005 :: Winter may be setting up various parts of the word (mile high vocode headquarters inlcuded) but the heat's turned up with the November 2005 Electro Showcase courtesy of Florida's Double Helix. Cop that shit now

10.16.2005 :: Consolidated Electro Showcase mix archive information onto one, easy to access page.

10.05.2005 :: Electro Showcase October 2005. Bringing the funk from North Carolina, USA - DJ Kate presents the October Showcase. Check out this corker of a mix - from our bass bins to yours :P

09.22.2005 :: Vocode Recommends 008. A speaker-terror upper of a mix from Double Helix, Return 2 Bass. Check out this must have electro mix - from our mp3 player to yours

09.07.2005 :: Just added to our DJ Mixes section, we're featuring a double dose of old school techno and UK rave mixed expertly by DJ Dionysos and DJ Mythic from Dallas. Check the Double Dose of Old School page.

09.07.2005 :: Starting off the leaves-falling season, .josh23 reps the mile high city with a wicked electro-funk mix for your aural pleasure. Check the new September 2005 Electro Showcase!!. Also, the August showcase by Texas residents Majora y Minora is online, as is the July showcase. Enjoy electro nutters!

07.05.2005 :: Rounding up the second of our summer season of mixes, the UK's very own John Bushby comes back to Vocode to dish up another helping of delicious electro goodies. Check the new July 2005 Electro Showcase!!

06.14.2005 :: A stellar new mix to kick of the summer season at Vocode is now online. Check the new June 2005 Electro Showcase expertly spun by Vocode resident Dynamons.

06.06.2005 :: Various showcase and dj mixes mp3s taken offline to make room for the summer '05 Electro Showcase releases.. That's right, we've got June, July and August lined up for you with mixes from DJs representing Texas, Athens and the UK. Hold tight!

05.21.2005 :: Added a new Vocode Recommends featuring a mix from Leipzig's Dr Krelm, and a new music to the DJ Mixes section of the site, an old school interpretation from Colorado's .josh23.

05.19.2005 :: The re-mastered Illusions of a Dream mix from DJ Mad Wax is back up in the DJ mixes section. More info and tracklist here. A new vocode recommends and addition to DJ mixes is coming this weekend!

05.08.2005 :: The May 2005 Electro Showcase is up and live. Brought to you by DJ Steve Wellings from the UK, check the bass y'all.

04.06.2005 :: With yesterdays addition of several missing Electro Showcases and DJ Mixes, All ESS and DJ Mixes archives are now up in streaming Real Audio. Check them out at will. As mentioned elsewhere in this site, if you want mp3 versions of past mixes your best bet is p2p services - these mixes are still out there floating around.

04.02.2005 :: We totally lied. Today is April 2nd and we're launching the April Showcase. Dr. Skunkenstein from Electrolab Records has come through with an excellent oldschool mix for April. Go get it.

03.28.2005 :: As some of you have wrote in wondering, no we havent sent an update for March because we do not have the March showcase ready. We'll be launching the April showcase promptly on Monday April 4th, stay tuned!

03.16.2005 :: Updated the Vocode Recommends section with sets from Ruxpin, Medooza and Dr. Skunkenstein.

03.08.2005 :: Added site map, Vocode FAQ and updated various sections.

03.07.2005 :: Cleared some room to make way for the March 2005 Electro Showcase. Stay tuned, it's gonna be killer!

02.23.2005 :: If you missed Damo's Electro Showcase for January 2005 or the Wax vs. Lex Electro Showcase for December 2004, both are back online in MP3 form for a limited time. Go get em'!

02.15.2005 :: DJ mixes page has been updated with a new mix from vocode co-founder Mad Wax 'Illusions of a Dream from Years Past' as well as the return of the 'Great Divide (Mandate My Ass)' Drum n Bass mix due to popular request. Have fun phriends!

02.03.2005 :: The Electro Showcase for February 2005 is now online. Hugo Electro provides us a steamy soundtrack to a night of doing dubious things in seedy venues. Enjoy! Please note the Warsaw Football Hooliganz mix has been pushed back for a March 2005 release.

01.19.2005 :: January has been a record for the Vocode Project, despite increasing our hosting package earlier in the month. As of today The January '05 ESS is offline,but you can most likely still find it floating on P2P services. The original file name is electro_showcase_jan2005_Damo_vocode.com.mp3. Next up for February ESS, a mix from Eastern Europe from the Warsaw Football Hooliganz - more info soon! This weekend we'll be putting up the rest of the missing streaming archives, as well as putting back up the Original Works and fleshing out the DJ Mixes section. Thanks for visiting Vocode. Please note we have 95% of the past 5 years worth of mixes up online in streaming format for your aural pleasure :)

01.07.2005 :: A new Frankfurt Classics mix by Mad Wax has been added to the DJ Mixes section. 74 minutes of sounds from the 1993-96 era of Frankfurt's seminal Harthouse/Eye Q record labels. Don't be shocked, it's trance. But not trance as defined today. Don't sleep.

01.05.2005 :: Put up two new set reviews in the Vocode Recommends section. Two excellent yet very different bits of electro yumminess are submitted for your perusal. Thanks to Nick AC from New York and the Blotnik Brothers from Sweden.

01.04.2005 :: Added more links to the Global Electro section. Enjoy. We're now linked to our brothers and sisters at Basterdized, Tokyo Electro Beat, Satamile, CBS, ATLelectro, Meta-Minds, Frajile and Headspace.

01.03.2005 :: The January 2005 Electro Showcase is now up and live. This one is a tasty slab of electro coming straight out of Cambridge, England mixed by Damo. Check it out.

01.01.2005 :: Happy New Year to electroheads all around the world. 2005 looks to be another stellar year for electro music and the Vocode Project. The January 2005 Electro Showcase will be up shortly. It's a blinder.

For those of you who use P2P services, the original filenames of the 2002/2003 ESSes have been added to their respective info pages.

12.25.2004 :: Information pages for 2002 and 2003 have been added to the Electro Showcase section of the site.

12.24.2004 :: streaming archives of past DJ mixes have been added. Next up, original works section. Thanks for visiting, Merry Christmas bassheadz! See you in 2005 - we've got some great DJ's lined up for you.

12.22.2004 :: Updates throughout site - gallery updated, parts of DJ Mixes archives updated. Pages which are in works have been de-linked to save you the trouble electro botz.

12.20.2004 :: Streaming archives of 2000-2004 showcases have been added. Check the Electro Showcase section of the site.

12.09.2004 :: December Electro Showcase featuring Vocode founders Mad Wax and Lex aka "Crazy Horse Invincible and Spaceman Africa" now online.

12.08.2004 :: September & October showcases offline - December ESS to be put up shortly. Also, this week we will be uploading and linking up all the streaming audio from past showcases for your aural pleasure

12.07.2004 :: Vocode Update is back online - submit your email and any comments above and join our update list to recieve announcements of new mixes to the site. No spam, no bullshit just electro bass and other goodies. Also, our streaming audio files are being added this week for past archived mixes, as well as the December Electro Showcase for the final mix of 2004.